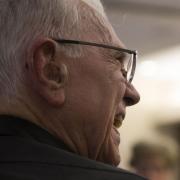 The Joseph A. Tetlow, S.J. Endowment is named for a generous and holy man of God who inspired the founding of the Ignatian Spirituality Institute. The Ignatian Spirituality Institute established this endowment to honor our founder emeritus. Our gift to him is to spread the Ignatian fire he has lit among us.
Through the years, Fr. Joe has thought us into thinking, talked us into talking, laughed us into laughing, and loved us into loving.
    
You may know him as a teacher, author, retreat guide, listener, or dear friend. It could be that you have never met him in person, but his expertise in Ignatian spirituality has impacted your life and the lives of those you love and serve. In whatever way you have encountered Fr. Joe, you know him because he has done what Master Ignatius insisted be done: he has helped us love the Lord and one another better.
Your support of the endowment honors our founder emeritus and provides a stable future for our work. New horizons of hope are possible for women and men who come to ISI because you choose to look ahead and make those horizons possible. Thank you. 
"It is very good to leave some trace of good and holy behavior, for everywhere there is good to be done, everywhere there is something to be planted or harvested."
- St. Pierre Favre, SJ
---
Donate Today
The Ignatian Spirituality Institute is a 501(c)3 organization.
Your donation is tax deductible to the extent allowed by law.