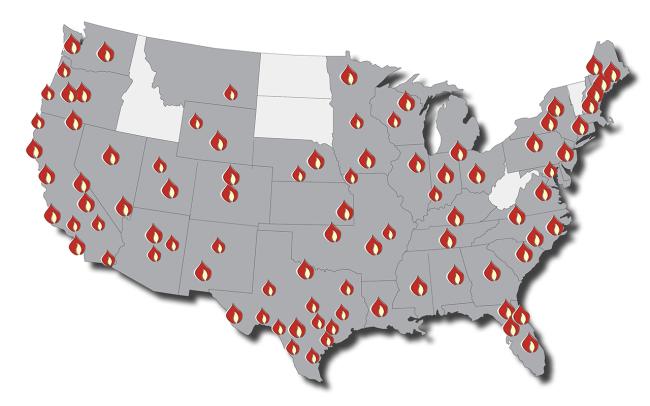 ISI embraces the Ignatian principle of one foot on the ground, one foot in the air – always on a journey to serve God. ISI has served persons in retreats, courses, spiritual companioning, and workshops from forty-six of the United States and eleven countries internationally, including Canada, Finland, Hungary, Ireland, Malaysia, Philippines, Romania, Singapore, South Africa, United Kingdom, and Zambia. 
"There is a palpable sense of the Holy Spirit at work at ISI." 
– James Hanvey, SJ, Secretary for the Service of Faith for the Society of Jesus, Roman Curia
Though we have served thousands, the apostolic ministry of ISI is not about numbers. It is about people.  We gather names and faces, hearts and minds yearning for a closer encounter and lived experience of Jesus Christ. We listen to and love those the Lord sends us to serve.
Like Master Ignatius and the earliest companions, ISI is required to rely on the generosity of God and God's people to support the ministry. Annual Giving is the way you can support the ongoing day-to-day operations of ISI.
ISI works diligently to steward well the resources the Lord and His people grant us.  We do as much as possible with what we have, and much that is impossible. The ISI team is committed and magnanimous. We know we need you. Like Ignatius in his day, we beg for your prayers, your resources, and your help.
We hope you will support this still young ministry. Thank you.
May the Lord continue to do much with our mustard seed of hope and joy, faith and love. 
"Jesus told them: 'The kingdom of heaven is like a mustard seed that someone took and sowed in his field;  it is the smallest of all the seeds, but when it has grown it is the greatest of shrubs and becomes a tree, so that the birds of the air come and make nests in its branches.' Matt. 13:31-32. 
The Ignatian Spirituality Institute is a 501(c)3 organization.
Your donation is tax deductible to the extent allowed by law.