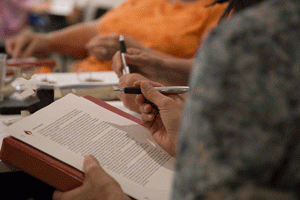 The ISI Spiritual Companioning formation program is for persons who feel invited to the ministry of spiritual companioning in the Ignatian tradition as well as persons who desire to guide others in the Spiritual Exercises of St. Ignatius.
The formation program focuses on growth in the interior life which is then given expression in listening and serving others seeking to mature in their spiritual life and discipleship of Jesus Christ.
The work of the program includes advanced reading, investigation, prayer, and reflection of life in Christ following the principles, practices, and norms of Ignatian spirituality. Participants explore the structure and dynamics of the Spiritual Exercises of St Ignatius of Loyola, the prayer and work of discernment, and other Ignatian principles. The formation - differentiating from pastoral and therapeutic counseling - seeks to develop gifts given to participants for spiritual conversation, companioning, and direction. Participants explore concepts through experience and case studies in a group setting. There are reading assignments for study and reflection between monthly sessions.
Program Design
Year One: deepening experience and understanding of Ignatian spirituality principles, practices, and norms.
Year Two: investigation, reflection, and guiding of the Spiritual Exercises of St Ignatius of Loyola
Year Three: deepening experience and understanding of discernment and ministry of spiritual conversation and giving Ignatian retreats. This year includes a practicum of guiding 18th and 19th annotation retreats with the help and guidance of an experienced mentor. 
Three years - August to May - are required for the completion of the program. Each year includes a retreat in August followed by nine monthly four hour meetings, which are offered on designated Saturdays each month.
The final year includes a practicum with mentoring as a person moves into the ministry of helping others make the Spiritual Exercises in 18th and 19th annotation formats. Monthly meetings are held at a location within the Dallas - Ft Worth area. 
The 2023 Cohort application is closed. Applications for Fall 2024 will open late Spring 2024.
Application process
Applicants will have made (or are currently making) the Spiritual Exercises of St Ignatius 30-day or 19th annotation retreat (one-to-one) with a spiritual director.
Applicants will currently be receiving spiritual direction, preferably within the Ignatian tradition.
Applicants will submit two letters of recommendation, preferably one letter from the applicant's director of the Spiritual Exercises and/or the applicant's spiritual director.
Applicants will submit a personal statement per instructions 
Each applicant will participate in a personal interview with ISI admissions committee. 
Tuition:
Total: $3,900

$650 (per semester/6 semesters) 
Tuition is payable annually or by semester, and monthly payout is available.
Upon acceptance to the program, a $300 reservation fee is required. The reservation fee will apply toward first year tuition.
ISI seeks to help form persons called to ministry. Tuition amount should not prove prohibitive for persons moved to apply. ISI is open to working with all who feel called to serve God's people in the Ignatian spiritual companioning ministry. If needed, we will work with you regarding tuition payment and financial assistance. Please reach out to ISI's director with inquiries.