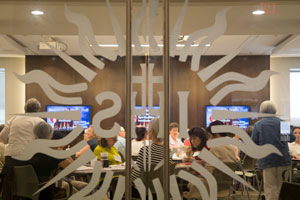 The Ignatian Spirituality Institute is excited to partner with Bellarmine Jesuit Retreat House to offer the Giving Witness Practicum. Dates for the 2024 practicum will be announced soon. 
What is the Practicum?
This is a workshop providing instruction and formation for planning and giving talks rooted in the Spiritual Exercises of St. Ignatius and Ignatian spirituality. The practicum will offer instruction and one-to-one mentoring regarding:
identifying what audiences want and need
developing themes and flow of presentation out of the Spiritual Exercises of Ignatius
formulating and framing presentations and talks rooted in the Spiritual Exercises of Ignatius
best practices for use of hand-outs, technology, artwork, music, liturgies and sacramental symbols.
How is the Practicum presented?
During the practicum participants will:
attend plenary presentations
have ample time to work in small groups and individually
formulate and write presentations/talks
meet one-to-one with experienced mentors
be expected to prepare presentation/talk  
have opportunity for daily Eucharist and prayer
Who will attend the Practicum?
The practicum is designed for lay persons, Jesuits, priests, religious sisters and brothers, involved in or moving into offering:
preached retreats at Jesuit and other retreat houses.
presentations/talks on ignatian identity to faculty and staff at Catholic schools and parishes, especially Jesuit institutions
parish missions, catechetical formation
days/mornings of reflection for parish, school, church, retreat house, or other organizations.
Participants will have personally prayed the Spiritual Exercises of St Ignatius of Loyola, in a 19th annotation or 30-day retreat.
Location
420 W County Line Road, Barrington, Illinois 60010 | Phone: 847-381-1261